International Market Centers' (IMC) November 2021 Market Insights explores real estate trends and their impact on the home furnishing industries through a conversation between CEO Bob Maricich and Dr. Lawrence Yun, chief economist and senior vice president of Research for the National Association of Realtors (NAR). "How the Housing Market Could Impact the Industry in 2022" is presented as a 30-minute webinar on Thursday, November 18, 2021, at 10:00 a.m. PDT/1:00 p.m. EDT. "For home furnishings buyers and suppliers, real estate trends have a direct impact on the bottom line," said Dorothy Belshaw, IMC executive vice president, chief customer and marketing officer. "Our November 2021 Market Insights is going right to the source to provide the tools our industry needs to plan for near term and future buying and selling."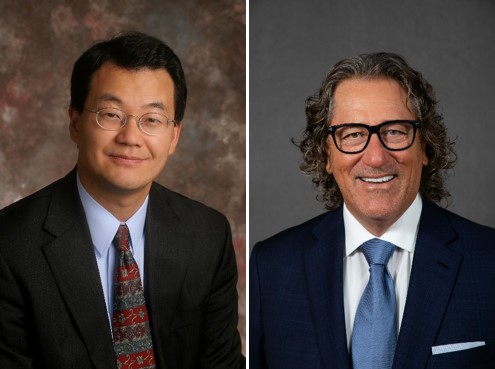 Dr. Lawrence Yun of NAR and Bob Maricich of IMC
"How the Housing Market Could Impact the Industry in 2022" is an intimate conversation between two thought leaders. Maricich and Yun will explore a variety of highly relevant topics including the current "hot" housing market, location trends, housing inventory, first-time homeowners, home staging and more. Yun oversees NAR's Research group, supervising the associations' research activities including the Existing Home Sales statistics, Affordability Index, and Home Buyers and Sellers Profile Report and providing commentary on real estate market trends for its 1.4 million REALTORS®. He is active in many economic forecasting panels including the Blue Chip Council and the Wall Street Journal Forecasting Survey and participates in the Industrial Economists Discussion Group at the Joint Center for Housing Studies of Harvard University. He frequently appears as an expert on financial news outlets, speaks at real estate conferences and has testified before congress. He received his undergraduate degree from Purdue University and earned his Ph.D. from the University of Maryland at College Park. Maricich is widely recognized as one of the home furnishings industry's most Innovative leaders. He was instrumental in the creation of IMC in 2011 and its 2018 merger with AmericasMart Atlanta and the Atlanta Decorative Arts Center (ADAC). Prior to IMC, Maricich served as CEO of World Market Center Las Vegas, Century Furniture Industries, American Drew Furniture and American of Martinsville and as an executive with Flexsteel Industries, Inc., Texaco and the R.S Bacon Veneer Co. His leadership positions within the home furnishings industry include serving on the American Furniture Manufacturers Association Board of Directors and the North Carolina Furniture Export Council. His many honors include the International Home Furnishings Representatives Association (IHFRA) Furniture Industry Icon award, the American Home Furnishings Alliance American Heritage Distinguished Service Award and induction to the Home Furnishings Hall of Fame – the industry's highest honor – in 2021. "How the Housing Market Could Impact the Industry in 2022" is a free, 30-minute webinar on Thursday, November 18, 2021 at 10:00 a.m. PDT/1:00 p.m. EDT. Registration is available now at
https://imcenters.zoom.us/webinar/register/6116365843002/WN_eQg7e2yuRoOEB7W2hEdGaw
. IMC's Market Insights webinars present high-level conversations about issues that are currently impacting business and allow buyers and suppliers to prepare for market throughout the year. With timely, exclusive, and actionable content, the series is an extension of the programming presented by Atlanta Market, DesignOn HPMKT by IMC and Las Vegas Market. IMC's upcoming markets are Atlanta Market (January 11-18, 2022), Las Vegas Market (January 23-27, 2022) and High Point Market (April 2-6, 2022). Open Year-Round showroom resources are available at AmericasMart Atlanta and the Las Vegas Design Center. Buyers also can source and shop – anytime and everywhere – via JuniperMarket, a new B2B e-commerce marketplace powered by IMC, which launches in December 2021.
About International Market Centers:
 International Market Centers (IMC) serves as the center of commerce for the wholesale furniture, gift, home decor and apparel industries. With more than 20 million square feet of premium wholesale showroom space in High Point, N.C., Las Vegas and Atlanta, IMC has more than 60 years of relationships and experience creating scalable business platforms for wholesale commerce. With the launch of Juniper, a fully integrated omnichannel B2B commerce solution and multiline B2B e-commerce marketplace empowering buyers and sellers to better manage and grow their business at markets and year-round, IMC now provides the only omnichannel sales and marketing platform that seamlessly connects physical and digital wholesale commerce. For more information, visit 
www.imcenters.com
.